Maltrata
February 22, 2010
It's amazing how a place can be so different from your home, yet in a way so alike. That's what I discovered in the small town of Maltrata, Mexico. Every year our church takes a trip there, and this year the seventh and eighth graders of St. Dominc School had the opportunity to come along. The purpose of the trip was to build a bridge between their Mexican culture and our own; to build strong relationships and learn from each other.

Many Hispanic people living in my hometown have family in Maltrata. When asked, over half the students in one of the Maltrata elementary schools said they knew someone who was living in the area. For me, visiting the elementary and middle schools was one of the highlights of the trip. I felt like a celebrity; kids were swarming all around our group asking for autographs. The school was simpler than what I'm used to, but the students are just the same as in our schools. They want to learn and have a good time with friends.

Walking around town delivering letters was another highlight of the trip. Each family wanted us to come in and stay for a drink and conversation. I got plenty of opportunities to practice my Spanish. And I learned that "Play with me!" from a three-year-old is the same in any language.

One day we went on a hike along the Rio Blanco (White River), nicknamed the "500 Steps". Walking down the hill was easy, but going back up was a different story. Everyone was exhausted by the end, but I think we were all proud to have made it.

Something that surprised me about Maltrata was how generous the people were. They were willing to share what little they had with us. Every time we came into the house, the family we were staying with would ask us if we wanted to eat. We quickly learned how to tell them we were stuffed. They did a great job of making us feel comfortable in an unfamiliar place, miles and miles from home.

The people of Maltrata certainly left an impression on me, and I hope that I have been able to do the same for them. It was a trip I'll never forget. And no matter how different their culture is from ours, I learned that at heart we are all the same.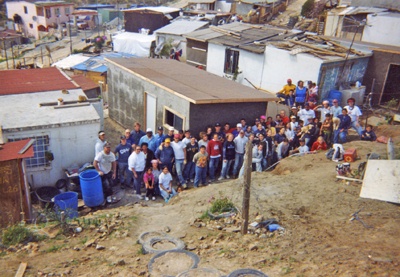 © Samantha T., Avondale, AZ