Memories of Chamberlain, Maine
MAG
December 28, 2010
As we drive away from this time-worn little town, I already miss the thrashing sea grass, the endless cawing of gulls, and the yellow snapdragons reaching for the sky, which seems to have been splattered with a long white cloudy brush. The air is settled, peaceful; I can hardly imagine my hectic life back home. I guess I have finally adjusted to the salty Maine air, to the mist billowing off the sapphire creases of the ocean and mixing with the evergreen, northeastern temperatures. This place I am leaving is beautiful, a tiny diamond stud on the fabric of my world. So let me go back to the beginning.

Not that beginning, of course, not when the sea carved out these chunks of rock and nibbled out the pebbles and shoreline. No, I mean my own beginning, my earliest memories of this beautiful place. I stayed in the yellow house then. I remember, faintly, the bedroom with the picture of a blue butterfly, the warm soapiness of a carwash, and the sweet taste of a fluffernutter sandwich. Maine has always been a peaceful oasis, a big gulp of fresh air.

I learned a lot on this trip, like how much sea glass can teach you, and how lovely a dock can be at night, swaying back and forth. I know words are not enough to describe this place, and no photograph can do it justice. Maine is all about the senses, the poignant feelings of the heart.

Chamberlain has hardly changed since I can remember. The post office is still surrounded by tall wildflowers … ah, the wildflowers! They are streaky slashes of color swaying in the sea breeze. I used to imagine the path between poison ivy and white bursts of Queen Anne's lace to be a fairy path – it's easy to believe in those little sparkling creatures on a starry Maine night. I can remember the first time I saw a shooting star. I was lying on the dock looking out into the constellations, each tiny spark a burning fireball, when a meteor shot across the entire sky, leaving a trail of rainbow dust. That shooting star could have been a fairy's escalator, skating up and up into the dome of sky.

From the post office, a stroll past the tennis courts leads to giant rocks along the coast that spill out onto the edge of a sandbar – an open stretch of sand filled with hermit crabs, opportunity, and early morning mystery. The moon sucks out the tide and lets us walk along this clean and perfect gift. Mussels peer through the sand. Water threads in, tickling our toes, and trickles back out into the sea. This is the sea in which dolphins race, the Titanic sank, and Captain Ahab fought a great white whale. Now its water washes seaweed from my feet and breathes in and out. The ocean, city of dreams, three-quarters of the planet, carries small fish and whales, supports boats and coughs up tidal waves. The ocean is dark on the bottom, blue and green on top, shimmering, mysterious, bringing peace while roaring with romance, terror, darkness, and new beginnings. It brings waves and fish … and sea glass!

Sea glass is a Maine tradition, a beautiful relic of the ocean. It took me a long time to realize that these blue, green, brown, and white pieces of triumph and loveliness came from the shattered skeletons of beer bottles trashed by strangers from foreign continents, that ended up in my chubby child-fingers, catching the light, smooth and round and soft as an angel's face. In some cases, the search for sea glass took us close to the rickety dock. Then, as certainly as the sky is blue, the sea would call, and we'd stand, peer over the damp driftwood, scramble over the rocks, past the wild raspberry bushes (how sweet those swollen raspberries were!), and onto the dock.

Would you like to take a ride on our boat? I'll leave my flip-flops, slip a crumpled yellow life jacket over my sweatshirt, and we'll cruise around buoys until we plunge past the point and explode into the open sea. I'll be singing some song and buckling my knees each time we crash over the crest of a giant emerald wave. We may see dolphins rising above the waves, their backs gray and shiny under the summer sun. We might see a thousand birds rising, leaving a million creases on the water, or seals poking their heads up, looking with their big brown eyes. We could see eagles rising from their nests, as the sun lights up the entire sea, reflecting impossibly bright sparkles off the waves. But the best part is that feeling of freedom, that explosion of excitement, sailing above it all, a tiny speck on that huge ocean.

Back in the cove, we'll stumble off the dock and snag a few wild blueberries on our way home. And with the house comes food. Food! Calories trapped in a peanut butter and fluff sandwich sliding down my throat … or better yet, lobster! Another Maine tradition, as revered as any. The family packs the kids and dogs into the car and drives to Round Pond for lobsters and clams smothered in butter, eaten from the shells that came from the sea on the other side of that rickety fence. When the trays come, we crack the scarlet shells and eat until our stomachs quiver and nothing is left.

Maine nights are everything you might expect; with the shimmering water reflecting the silver moon, they are easily as romantic as any tropical Caribbean eve. But the jet-black sky is fringed with pine trees and the wind has a northern nip in it, bringing memories of snowy winter eves and crackling fires. Sometimes we lie on our backs, staring at the sky, and if we're lucky, we'll see a shooting star. Nights in Maine can be spent playing cards beneath a moonlit window, watching movies in our cottage, or sitting on the dock, surrounded by ribbons of ebony sea threading beneath us, seaweed groping for the surface.

Chamberlain isn't all scenery; it's also a town that seems to exist as it did decades ago. Cell phone service can be found only atop certain hills. The tiny wood shack of a post office still stands amid rows of wild vegetation. The old houses are beautifully crafted of dark wood, with slanting roofs and knotholes, alive with memories ­spanning generations.

But all of this would be nothing without the colorful cast of characters I have come to know and love. People here are easy to trust and always smile. It's easy to say hello to everyone. Although the scenery is full of inspiration and beauty, the laughter and harmony of the people is just as special. We spend our days playing tennis, gossiping at dinner, roasting marshmallows at bonfires, and chatting out on the point past 11 at night.

Chamberlain and the towns around it are filled with tiny little gems in the form of fun things to do. We can drive to the swimming hole and leap off the bridge, plunging into the cold depths, or swing from a rope, dodging tree branches before crashing into the water.

Damariscotta, a neighboring town, is a shopper's delight, filled with shops and cafés. I could spend all day inspecting each trinket, sipping milkshakes at the bookstore café, and trying on scarves, sunglasses, and sweatshirts. Some days we go to Pemaquid Beach, though the water is too cold to stay in very long, and we watch fireworks shoot off over the water in celebration of Bristol days. Then there's the annual firemen's parade where they toss candy from the trucks and spray us with the hoses.

Of course, some days in Maine are endlessly long, with nothing to do but play cribbage, watch movies, and listen to the rain. But my memories glow with sandbars and boat rides, laughter and beauty. Maine is always peaceful and always quiet. Time sort of stops and you hang suspended in the blue, your journey each day involving no more than a quest to find that special piece of blue sea glass or spot dolphins in the sea. Maine is a gigantic fruit for a writer to sink her teeth into. It is ridden with shimmering beauty and mystery. It bares the soul to the sea. It changes people, bringing peace and romance and laughter.

I hope to return to Maine every year of my life. Even as a teen, I can appreciate the beauty and tranquility of this little town I love. When I think of Chamberlain, I think of wildflowers, huge green waves, and salty sea air. I think of lobster and ice cream and laughter. I think of starry nights and the merging of sea and sky. I think of cliffs chiseled by a careless sculptor, filled with overhangs and indents. I think of my family and friends. I think of the extraordinary beauty that lies right in front of us there, if we just open our eyes.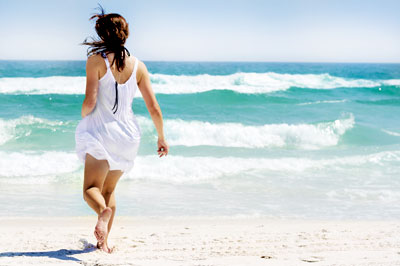 © Rebecca B., Marietta, GA