Of all the Fake Emos in the World
December 10, 2009
To be or not to be, emo. It isn't a fashion statement, it's a death wish. To be emo is more then just wearing black and purple all the time, it's about hurting yourself in multiple ways because you're so ignorant and think that the world is completely against you even though it's not. Although emo-culture freaks people out, it has had a great influence on music and fashion trends.

The face of Fall Out Boy is bassist Pete Wentz, he has created an image for the band that is favorable to those who enjoy the thought of "pain for pleasure". Is he really emo because he hates his life, or is he just using the image as a way of looking cool? If you think about it there really is no reason for him to be emo because the way I see it is he has it good. He's a bassist in a band that hits #1 in the Billboard 100 and 200 every time they come out with a new album; he's married to Ashley Simpson(now Ashley Wentz); and he makes millions a year with his band.

As you may or may not know he has had suicidal thoughts in the past. The lyrics of all the Fall Out Boy songs contain a depressing message bordered with irony, and so what helps him give off this image of being emo is the way he writes the lyrics to the bands songs for example in the song " Get Busy Living or Get Busy Dying", he said in a poem at the end of the song "from day one I talked about getting out/ but not forgetting about/ how my worst fears are letting out/ …… now talking just a waste of breath/ and livings just a waste of death/ ….. when this is you and me/ and me and you/ until we got/ nothing left" if anything this poem is exaggerated ethos. It's all a gimmick, there's no way can a dude feel this depressed and have as much publicity as he does.

Now I'm not trying to insult Fall Out Boy, because personally, I love their music and the lyrics to the songs. It all works out because he can attract a group of people with his image and the image he creates for the band, and keep them liking the band with the songs they sing and play and stuff. Pete Wentz is an inspiration to all that appreciate hard core suicidal-cut-myself-because-I-hate-life-even-though-my-wife-is-hot-and-I'm-making-millions-from-my-band kind of people. He has the look and the way of thinking, all he needs now is to live the life of a person that truly is depressed.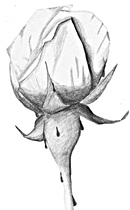 © Elaine S., Phoenix, AZ