Child Abuse
October 9, 2011
She holds her teddy bear with trembling hands, hoping he doesn't want to hurt her tonight.
Hiding underneath her bed, she closes her eyes, and begs God to make things all right.
She hears her dad yelling in the other room, and then a bottle smashes against the wall.
And then he snatches open her door and screams her name, but she doesnt answer his call.
She doesn't want to feel his anger, because he always expresses it with his fists.
Bringing pain to his little girl, but never showing any remorse, due to his lack of a heart.
Leaving bruises all over her body, black and blue contusions, his abusive form of art.

She lays underneath her bed, praying he can't hear the thump, thump, thump of her heart beat.
But all hope is lost when her dad begins to laugh and then jerks her out by her little feet.
Daddy, please don't hurt me, she cries; as tears begin to fall from her eyes. I don't want to hurt anymore.
But he hits her over and over, until she stops crying; then he leaves her lying face-down upon the floor.
When her dad comes back to hit her again...she doesn't feel his beatings, she doesn't even respond to them.
because this time, her dad took it way too far. So, God carried the little girl to heaven, to be with him.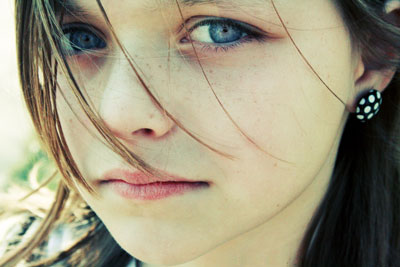 © Felicia R., Arlington Heights, IL