The Dancer's Love
MAG
October 24, 2010
That pretty girl,
She danced for her heart,
Until she broke
Another part.

A twisted knee
And tired head
Laid the dancer
On her bed.

She cried for days
And weeped for nights
And no longer saw
Her name in lights.

When one day soon,
She met a boy,
Who lay with her
All quiet and coy.

And as she healed,
They took their chance,
For the day soon came,
When she could dance.
She left the boy,
Just on a whim,
She lived for dancing,
Not for him,

And so he cried,
As well he laid
A broken heart,
He'd been betrayed

Then one day as
He lay alone,
He heard the crying
Of a phone.

Come see me dance,
Said his lost girl,
Come see me jump
And twist and twirl.

He questioned this,
Was it heaven sent?
But still packed his bags,
And off he went.

Off to New York,
The lighted city,
Of tortured hearts,
Broken dreams, and pity.

And there her name was,
Up in lights
Upon that street,
One fateful night.

He went inside
And sat alone,
These theatre seats,
His broken throne.

She came on stage,
Her legs like songs
That told of stories
And played so long.

Her body twisting
Like stiffened trees,
It got him shaky
In the knees.

Her final turn,
Her daring jump!
And in his throat,
There grew a lump.

And from his eyes,
There grew a tear,
He now knew why
Fate brought him here.

To see that love
Is not just for men.
But a dancer's love
To dance again.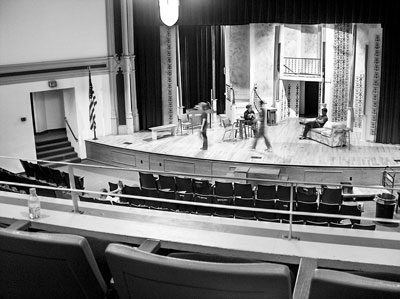 © Sean C., Princeton, IL