A Holocaust Victim's Point Of View
March 21, 2010
I wear the Star of David
Strung upon a golden chain
Draped around my neck in pride
Yet they see it as a stain

They cannot see my heart
For what it truly is
Cannot Hitler hear the sound,
Beat-beating just as his?

Like a bullet piercing through my skin,
Blood pouring from the shot,
Like a glass of red, red wine,
-Shattered on the Kristallnacht.

My heart is broken by the torment,
By the scorn and the abuse,
Fast upon my heels
Hitler's hounds have been set loose.

All my people are condemned
My hopes and dreams forgotten
In my sight I see my end
My beliefs, they have deemed rotten

There is no use in fighting
Breathe in, breathe out. Surrender
Nothing can protect you
No guard or defender

Swing lower now sweet chariot
From the Ghetto make a prison break
I've been giving oh, so much
What more have they to take?

They took me from my family
They took me from my home
It seems they've taken everything
My religion's all I own

I am up at dawn
And lashed till dark
My screams drown out
The angels hark

As they'd visit us
Each tortured night
The lucky ones go
Into the only light

That shines on us
Where the Nazis choose
To exterminate all
Of the living Jews

That's why this is happening
That's why we breathe this foul air
That's why my people suffer
My religion makes my life unfair

So what if I think differently?
What if my eyes are brown not bluish?
Look at who I was before
I was so much more than Jewish

I was a daughter and a sister
A lover and a friend
Too soon my family saw the grave
And put these titles to an end

I fear this hell cannot be blessed
I fear this cell is a lifelong friend
Soon no more beats inside my chest
Can you now hear its screeching end?

Not the first and not the last
More Jewish and gypsy souls will pass
Within this place they've made for death
Inside this room they've filled with gas

If you were to listen at the door
You'd hear the people say a prayer
"Sweet death please come more swiftly!"
Whispered into poisoned air . . .

What has this horror taught me?
-That there is nothing more to learn
When your heart is slowly stopped,
And your body left to burn.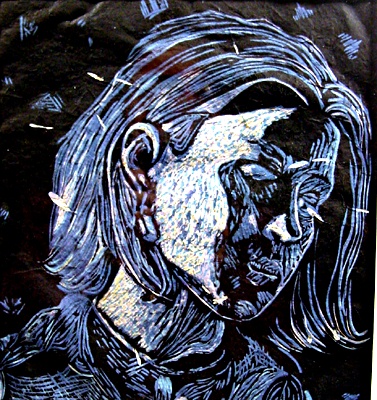 © Lauren P., Spartanburg, SC