as i reach for you
August 6, 2010
Our hands touch as I reach for you
One last time…
You think I don't notice the way you grab onto me
Like a frightened little child?
I look into your eyes…
Those eyes that I know better than my own.
Memories flood my mind of the
Times we used to have.

But now as I look into your eyes, that young child is nowhere
To be found.
I wish I could be your hero, and save you from this pain
That you feel.
But I think we both know deep down that I can't.

But tonight you don't leave…
And tonight that's enough.
Tonight I will imagine that none of this is happening.

We will climb trees in my back yard.
We will be partners in crime,
We will talk to each other with flashlights
Using Morris code
Sharing our deepest secrets that we are too
Afraid to speak out loud...

But tonight when you look at me,
I find comfort in knowing that we
Are both afraid
Knowing that we are not at all the same children
Who would climb those trees
And share unwanted burdens.

Because, tonight, I realize that I've tried for so long now
To save you
And I don't think you ever asked me to do that…

So when you collapse into my arms,
You and I both know that I will always hug you back.
Because holding you is the only way
To cope with the fact that I have already
let you go.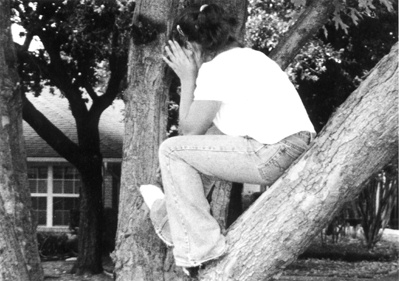 © Allyson S., Highland Village, TX