The Autopsy of an Apple Fallen
October 28, 2010
Behold! The freshest and ripest apple,
Shining in its brilliant red hue,
Standing like the cross atop a snowy chapel,
But plotting its dreadful coup.

As that fine golden stem severs connection,
It marks an epoch in an everlasting glass,
We begin a tedious dissection,
When bruised by salient strips of grass.

The tree which gave it life,
Now casts an ominous shadow in its path,
Once bound as husband and wife,
A divorce of interests, and entailing wrath.

The final product of this villainous knave?
Oh how can this be weighed?
By megatons or seismic wave?
Neigh, it cuts the Earth as a sharpened spade.

The tranquil seas do conceal,
The potential of unrealized destruction,
A stupefied angler with fish and creel,
Spies the bluish visage of a world's reduction.

In the quake of the rebellious apple,
All men become twisted in essence,
A leathery book I do grapple,
And seek the tunnel for luminescence.

Sure as the moon's ascent by night,
But not quite as the Son's by morn,
I relinquish this apple of all its might,
And find an evergreen without a thorn.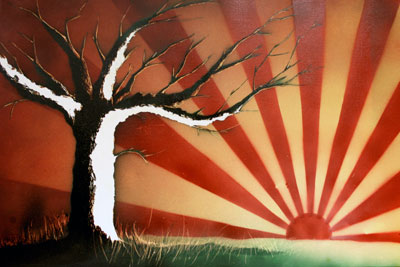 © Tomas C., Lakewood, CA