Sweetly Broken
March 14, 2012
Taffy knots are wrapped around his wrists, 
cotton candy blue on Tuesdays, when he knows that maybe he will find 
her standing against a wall with eyes locking into fifteen carved faces and 
teeth they created with green paper; his face is so very hopelessly
young. They told him that only the firm bent cheeks, prickled with dark needles and 
age could win her eyes or her glance, and he
listens because they have 
plastic girls, Barbies and MyScene answering to their words because sometimes at night they
like to pretend that love exists and hold their curves talons as if they are
comfort and look upon their Silicon noses with forced schoolboy smiles. He does not
know to believe that she is different; she is only straight brown hair and eyes, without 
thick paste against her skin and sheer powder around eyes. He wonders why he can sit some
weekends and watch her kind walk quickly with leather bags at their shoulders, 
murmuring of makeup and clothes; she says no such things, but only 
smiles and turns to those she finds familiar and faces the green tiles to walk and 
step into arches. 
His mirror is cold and the door locked as heater-breath perspires and creates fog
on its surface; humming and meaningless words are spoken outside of 
this room, while he is afraid to close a drawer and slides it carefully into place with
hand slowly guiding it back, back. His face is not
pale or tan, rather it is between the two evils and clear of dimples she probably 
loves to see take form. Perhaps he should attain such features for her
pleasure. 
His material world is dust ridden; if for once he could reach into her thoughts, he would
realize that none of it was of great importance. She could show him that
faces are nothing more than identification badges, always tattooed deep into your skin but 
able to be overlooked. She could tell him that she once looked into a mirror herself, seeing that
which she was unhappy with and wishing that she could pluck her eyebrows without it
hurting or reshape her jaw to be fit of the word pretty; Ivory soap sitting against the 
bathroom sink and he breathes in the taste. Clean. Perfect. Chipping paint. Plaited hair.
Precious thoughts that he will never invade may tell the truth that sits on 
it's own far off platform, while she watches his eyes rip from the scene before she can
see.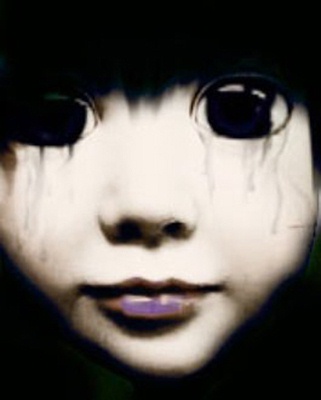 © Stephanie C., Gaithersburg, MD