America!
April 30, 2012
Oh America-
you have no regrets
in your neon signs.
All the hopeless
desert nights
spent wandering
the rail yards
shipyards
backyards


glimmering lawns
and swimming
pools at dusk the infestation
of middle America
by the cronies and crooks
with their hands
raised, yelling from
the crumbling
ledges of
strip malls
and asphalt meadows


America! What
the hell happened?
Your bad beat poetry
in running into the ground
your suits and ties
are sweaty and frumpy
and I am pushing
with every ounce of
my soul- my supermarket
soul with the
glittering dead produce.


Crying crying
are the child-wolves
in their pens
from their anxiety perches
in the complex subsidies
of condos and
s***ty window sills


Oh the long lost frontier
I am dreaming of!
It is lost, and we will
move west in a perpetual
sickness unto our own health
to find the last and final shreds
of our humanity.
Crawling with our mouths full
of gym socks
we are humiliated,
America! Weep
for your brothers,
the sisters in rags
and the mothers
stuck with broken ovens
and burnt hands.


America! I am
lost in your collapse
beneath your
heart of hearts I am suffocating
in the styrofoam peanuts
of your lungs I am drowning.


America, oh darling
you are dying in me.
I reach for the cosmos
my fingers brushing
suburbs in
a gangrene gesture
of disillusion.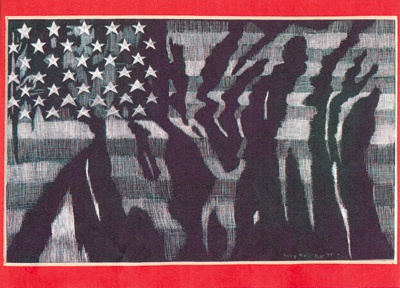 © Haley M., Ellinwood, KS