Life is a Circus
June 29, 2014
Make way for the Big Top,
We must put on a show.
Make way for the Big Top;
There's nowhere else to go.

Step right up, and we'll start
With a somewhat cynical look at the conductor.
He stands
In the center of the ring and
Commands
Animals and acrobats into position, but only because
He himself is tired of people pushing him around.
Sweat drizzles down his plump face,
Cheeks glowing bright red.
And no one will know that it's because
He had consumed a significant amount of alcohol
Beforehand.

Over there's the juggler,
Who juggles much more
Than whirling bowling pins and thrown props.
Look closely, and you'll notice hearts, thoughts and dreams
Spin and crash during practice sessions,
But all they will ever see
Are objects
Cascading to the ground.

Over there sit the so-called "freaks,"
Who barely make enough money to keep food on the table.
Are they not people, just as much as us?
They obtain
Unacceptable traits
In our society.
When one is desperate,
One naturally partakes in desperate actions;
And in this case, the "freaks" compromised to the powerful,
And chose to succumb to humanity's relentless criticisms and its
Cruel, finger-pointing mocks.

Toes pointed and head held high,
Watch for the tight-roper scaling the sky.
She cautiously moves forward, one step at a time.
It's inevitable that the rope will waver and she will stumble,
But looking down
Is never an option.

This is to all the conductors, the jugglers, the freaks, and tight-ropers out there,
Looking to fit in.
The ones who lead, the ones who follow, and the ones who simply
Hold the tickets to the show.

Yes, we must always make way for the Big Top.

I mean, where else is there to go?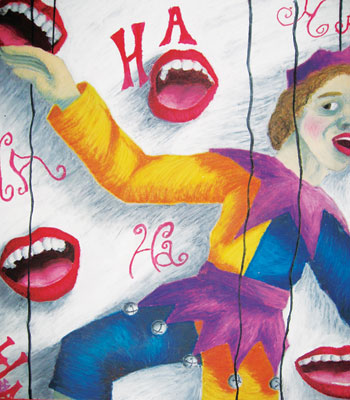 © Carollynn G., Hawthorne, NY