For My Heart
MAG
July 8, 2015
Don't worry if the roof will cave in
above you,
or the rotted floors crumple beneath
your feet.
Allow the portraits to remain crooked,
Pristine, beautiful, perfect lies that they are.
While the harsh, malevolent, vicious truth
still walks upon the earth, buried
under suppressed memories.
No adhesive can mend what's broken
from the start.
Walk out into the light and keep walking.
Don't think. Don't pause. Just go.
Don't even say goodbye.
Allow time to smooth away scars,
invading the
dust and shadows that have gathered in
your heart.
Learn to trust and love again.
Quit agonizing over fractured emotions, painful memories,
the screaming, shouting, angry words;
or if anything in your life is going right.
Except your vigor. And your loves.
Explore your heart – decide first what's inside it,
then pursue it with a passion.
Don't look back on what will never change
or grieve for what never was.
New memories and dreams will fill
these cracks.
Accept life as it is, and take it as it
comes through
your open door to gather on your couch,
Waiting patiently for you to heal, as it reminds you
that you're loved.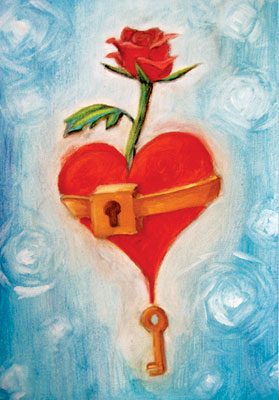 © Louisa L., Pleasanton, CA