A Smithie Summer
MAG
September 25, 2012
Five girls sit in the cozy dorm lounge in silence, their faces bathed in blue phosphorescence as they type, scroll, tap and click at laptops and iPads. Some type away at Word documents, frantically trying to finish a homework assignment for Creative Fiction so that they can get to bed before midnight (it doesn't happen).
Others put the finishing touches on tender poetry or carefully crafted "gif-sets" and send them out into the cyber world via Tumblr. Still, others are surrounded by Scotch tape, scissors, a digest booklet of computer paper, and dozens of magazine clippings as they try to piece together a zine that captures the essence of their soul. Their laptops remain open and standing by in case screenshots of Star Wars or movies scored by Hans Zimmer come up on their Tumblr dashboard that are worth adding to the beautiful mess.
To the ordinary observer, the scene might appear to be a roomful of typical teenage girls, each engrossed in her own universe of solitude created by technology. However, these girls have actually spent the entire day with each other, among dozens of others, bonding in one of the most intimate ways possible, writing together. In the evening, they gather in the lounge to quietly enjoy each other's company. I know this because I was one of those girls (the one putting together a zine).
Before I went to the Summer at Smith Young Women's Writing Program, I had forgotten how to write, in a way. I had forgotten how to enjoy writing, to be able to shut off the part of my brain that was both hyperactive and overworked from writing countless five-paragraph essays and soulless research papers. Somehow, since entering high school, writing short fiction became increasingly difficult and I convinced myself that I didn't like poetry. I had also given up hope in other areas of my life, mourning my lack of like-minded friends and forgetting how to play music simply for the joy of making music.
Summer at Smith helped me reshape my life in all of these areas. In Gillett Haus, I stayed up many a night with girls who didn't look at me strangely for wanting a real, live lightsaber (it exists) and sang along with me to the melodies of all of my favorite movie scores. At meals, we intensely debated issues such as the connection between heritage and personal identity, what was the best way to approach memoir writing, and whether a blueberry was needy or charitable (inspired by the Food Writing class). There was a grand piano in the dorm lounge, so during our down time many girls (including me) would take turns pounding out the Doctor Who theme song or tickling the keys to the tune of jazz classics while others sang along.
Most importantly, I remembered how to write. In poetry class, we studied romanticism, modernism, post-modernism, and neo-formalism, and as we tried to copy the greats of each era, I realized (for the second time in my life) that 1) poetry was indeed beautiful and 2) I was actually good at writing it. In fiction class, numerous prompts kept us on our toes and spawned a wealth of new material that I plan to work with and use for upcoming writing contests. And thoughtful homework assignments provided a jumping-off point for my new novel that I plan to continue during NaNoWriMo this year. In both of these classes, intensive workshops allowed us to deepen our analytical skills and push both others' and our own writing skills to new heights.
The Young Women's Writing Program has dramatically changed my life for the better. I returned from Northampton this past summer refreshed, energized, and ready to approach the new school year – and my life – with an upbeat, creative, thoughtful, and ever-questioning mindset, and a new schedule that allows creativity (whether literary or musical) to become a priority in my life.
And as for the girls in the dorm lounge? Though we are now hundreds of miles apart, our hearts still beat as one.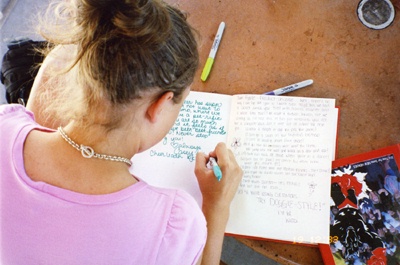 © Jessica S. Pheonix, A