Old York
January 3, 2013
The skyline spikes with the pristine glass of heaven-ward towers, faceless and arched in stainless steel, reflecting the splintered docks of the fish-cloyed coast, the listless grey clouds that bend with the breath of a squatting smog. The air tastes of gasoline, bitter and medicinal, and of the evanescing rust of unsunken ships. The shore is a beast, a great stomach of intertwined nets, nodding buyoys, the shifting panes of colorless water.

The boat is nothing. A scooner, single-masted, tied to the peg of a slickened dock. The rope is knotted twice. The paint is fleshy and peeling with some unknown ailment, the deck is littered with forgotten stains and moldy pockmarks. It is the beast's face, dappled and anchored, riding up gently against the wilting dock with every two beats.

Its owner is long gone. And yet still it sighs, alone and forgotten beside the spider-web of planks and bent nails. Behind it, the great American city smirks down upon the huddle of water, early-morning traffic lights winking from the foggy distance. It's a world away, a world of men in straight suits and lapels, women in taxis with cell phones, teenagers smoking and lounging on the steps of a brownstone.

And the boat continues to lap, thudding ever-so-steadily, waiting, counting its beats, gazing at the plank-wood booths of an abandoned fish market, still dormant as the city continues in one infinite hiss.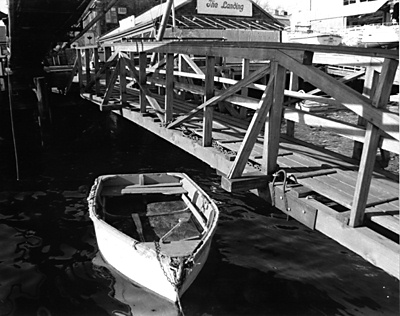 © Megan S., Marblehead, MA