My Favorite Educator
April 4, 2019
In basketball nothing shows heart more than diving on the floor for loose balls. My sixth grade basketball coach, Thad McGrew, encouraged everyone on the team to give it our all. Scraped knees and bruised elbows were a norm after a day of playing basketball with Coach Thad and his team of 12 year olds.
With a laid back and welcoming personality, Coach Thad is a great leader. Inclusion, effort, and dedication, are emphasized by Coach Thad. Thinking back to my favorite memories in my time playing sports guarantees memories of the team being selfless and going on great runs on both ends of the court.
When I reflect on the success the team had under Coach Thad there is a lot to choose from, but two specific moments stick out. The best memory I have from playing on Coach Thad's team was during a tournament. I recall a crucial stretch of our second game. It was tied in the second half with less than 5 minutes left, we needed to pull away and get a sizable lead in order to go into the final minutes ahead by a comfortable margin. Coach Thad's directions matched with his understanding of our ability and the trust the team had in him allowed us to go on a run.
Coach Thad had prepared each of us for defending opponents who had size advantages against us. Using team help defense and boxing out to get rebounds were two keys to defeating a team with such advantages. The advantage that our team had was speed. Using what we had been taught by Coach Thad along with our speed we were able to pull away and create a small lead. After scoring five unanswered points as a team we found ourselves on the defensive end. After the opposing team inbounded the ball, their primary ball handler launched a pass, stretching over most of the court intended for his teammate that was set up in the corner. My teammate Jordan flew towards the target of the pass and dove to deflect it, he swatted the ball and it was loose on the floor. Prompting those of us who were in range to dive onto the floor to gain possession, after grabbing the ball myself I got up, being cautious not to commit a traveling violation, and I saw three of my teammates on the floor showing true heart just as Coach Thad had taught us and I saw my teammates on the bench clapping and giving us support. We went on to win the game by more than ten points thanks to our unmatched effort and the support as well as game plan that Coach Thad supplied us with. The final 5 minutes of that game were a breeze, we all fed off of each other's energy and did whatever we could to win.
That one season under Coach Thad elevated my game and made me selfless on the court. I had plenty of bloody noses that season, but one still stands out to me. Early in the season, we played a team that had us beat in the first half—by a lot. They were bigger, even faster, and shot better than us. Early in the second half, I caught an elbow to the nose while fighting through a box out. I knew right away it was going to be a bloody one. I jogged to the restroom and plugged it up, and came right back. Seconds after substituting back onto the court, the ball was in play and I had it in the paint. First, I pump faked (just as Coach Thad taught us all to do) and I went up as strong and as high as I could with the ball to finish the putback. As I finished, I felt a hand hit my wrist and a body bump me, completing the perfect pump fake, and 1. After the shot went in, my teammates and Coach Thad showed their support but as always remained focused on our goals.
I have so many memories saved from that, nothing short of awesome, season. Close games ending in our favor, loose balls dove after, and of course, the first place trophy in the final tournament. Coach Thad made the bloody noses and scraped up bruised knees and elbows worth it. His positive attitude, welcoming personality, and the genuine care that he showed for each player on the team are just a few of the reasons why, Coach Thad is easily one of the most influential people in my life.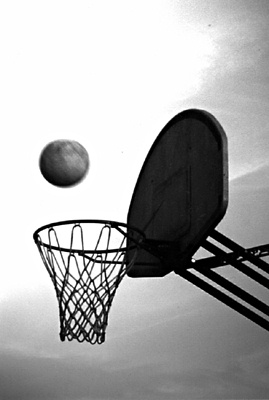 © Anonymous