The Patience Teacher
March 1, 2011
When I turn on the TV I see faces of famous men and women who people look up to. Celebrities who had skirmishes with the law, drug addictions, public drunkenness, and outlandish behavior that young people just fawn over and drool. When the question was asked, "Who's your hero?", I always paused. Well, who is my hero? My mind, like most teens, would sift through those stereotypical tabloid names. None of those names ever spoke to me. More often than not the names disturbed me for even being considered heroes, considering their behavior.

I do have heroes, but they aren't always the conventional ones, or stereotypical ones. My heroes include military personnel, a few writers, and most recently my neighbor. The one who I think has impacted me the most would be my neighbor. She is a truly wonderful and inspirational woman.

My neighbors are an older couple. Not ancient, but they are on the quiet and peaceful road of retirement. They visit places around the world and their grandkids. When they were younger they lived in places around the world. The husband was in the military, at one point they were stationed in Hong Kong China for about three or four years. I can't imagine the courage of moving to a foreign country with your husband and not knowing anything about the language or the culture. She told me so many wonderful stories about China that someday I want to experience what she has. One story made me laugh. She was in a shopping mall and dragon dancers came through the mall in their ornate costumes. Not knowing the culture, she stood and watched the dance and afterwards asked a local who looked at her strangely. It was something commonplace in Hong Kong to see a dragon dance during the Chinese New Year. It washed away bad spirits and left the good ones.

She has shared her memories of living the life of a military wife and as well as her life here in America. She is always looking for ways to help me out by ways of giving me jobs to earn a little money. For four years of my life I worked at her house in the fall, spring, and even summer raking, pulling weeds, trimming bushes and all sorts of outdoor work. Mrs. K is a kind and patient woman. I have watched the way she goes about everyday tasks with a kind of reservoir of calm and peace. She has taught me that difficult task of doing things right and being patient. Patience reaps bountiful rewards.

Not only has she been around the world, read more books than I could name, or helped me earn a little extra spending money, but she also has a love of teaching and learning that she spreads around her to everyone she contacts, including me. For two months she and I began the long process of making a quilt. Most teenagers would scoff, I know because my friends have, at such a task, and even I had my doubts. But we weren't just making a quilt; she was teaching me patience and that hard work pay off. Mrs. K taught quilting classes before and I had become her personal student. I made mistake after mistake, but she never raised her voice or looked at me like I was a baffled fool, even though I am, she was patient. She showed me how to fix my mishaps and I did. After the quilt was finished and I looked at the beautiful work a novice and master had created I am in awe. I even found out I quite like quilting.

Mrs. K lived such a wonderful, giving life. She has taught me useful information about life and people that you'll never learn in a textbook or from the tabloid stars. Someday I hope to pass on what she taught me to the next generation. Someday I want to be as giving and kind and patient as her, for she truly is someone to look up to. She is my hero.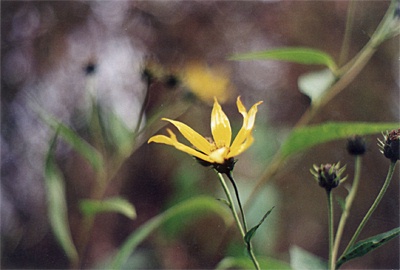 © Scott R., Casco, MI