My Childhood in a Day
August 15, 2012
I come from a place with a shining leaf: a red beautiful leaf, commonly known as the maple. This place was a sleepy town, overlooking a large lake where boaters are commonly seen. Our house was situated at the base of a cliff, where brown leaves would commonly peer over the edge. In our front yard, my mother kept a beautiful rose garden that bloomed each year. In our small loop of homes, a small fountain was built, where I chatted with the neighbor's daughter and sometimes threw pennies in. The valley was rich in soil and warm in the summer and chilly in the winter. Just a few roads down was our only movie theater, which I went to with my parents and friends. After that was a large farm, where the owner was a fifty year old man that let us pick his mangos and oranges and lemons whenever we wanted. I learned to ride a bike, so I would go with friends on biking trials or ride to the docks and canoe on the lake. Every year on Halloween, my mother would go to the family owned grocery stores and pick out a big pumpkin which we would use to decorate our front yard, and then she would make pumpkin pie and soup with it.

I remember a school, with many blue buildings, only two stories high, with a green field and a large building for a gym. Every day, I remember reciting poems and stories, and then the teacher would read to us some of her favorite books, which sometimes we would laugh and sometimes we would cry. Every year, we would have our own little Olympics, where the entire school of five-hundred students gathered on the field to watch. I remember the frenzy of action as I raced down the track, friends wildly cheering me on, and remembered how elated I was, when I jumped the finish line before everyone else.

I remember something else, something small: a creek that ran through the back of our house. In the summer it was barely a trickle, while in meltdown of snow in the winter turned it into a small rapid. Sometimes, I would use a piece of string and a hook and a bit of worm to fish for crayfish, other times I would sit on that big red rock with three mushrooms at the base and dip my feet into the cool water. I would put notes into a small bottle and let it flow downstream to the neighbor's house, where she would pick it up and read or maybe even laugh at my jokes. Finally, I would spend the day climbing the cliff behind our house and stay the late afternoon to watch the purple sunset.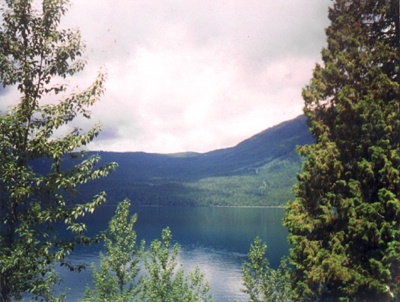 © Chelsie T., Phoenix, AZ