A Night of Fright
September 13, 2009
It was a beautiful summer night on Cape Cod. My mom Stacy and I were staying with my mom's cousin Holly, her husband Ben, and their kids Emily and Isaac. Stacy was in the guest room, sleeping on an air mattress. And since it was a beautiful night, the door that led to the balcony was open.

Stacy was tossing and turning with insomnia, when she heard a flutter of wings and a dark figure swooped over her. She got up and went to wake up Emily.

"Emily, your bird got out," Stacy said.

"What?" Emily asked, glancing over at her parakeet's cage. He was sitting right there on his perch. "Bluey's in his cage."

Stacy turned pale. "Well, if Bluey is in here, then what's in my room?"

She and Emily raced to the guest room. They entered hesitantly, and down over their heads flew a bat. Now your have to understand that Stacy has a huge fear of bats. She screamed and ran to Holly and Ben's room. She woke them and said, "There's a bat in my room!"

Holly and Ben jumped out of bed. Ben put on a winter coat, boots, and a hat (I'm not sure why; maybe for protection) and grabbed a broom. He headed into Stacy's room and searched for the bat. It was tiny, about the size of a pen, thus hard to find.

Again, the bat swooped out. Stacy and Holly shrieked. Ben tried to whack it out the door with the broom.

After a while, there were no more signs of the bat.

"Just go to sleep. I think he's gone," Ben said.

But how on earth could my mother go to back to sleep when she thought the bat was still lurking around?

Stacy went to close the curtains, and out jumped the bat from behind them. More screaming, more swinging of the broom, more confusion. Finally, the bat flew out into the night and everyone could go back to bed.

But the worst part of the whole thing is that I slept through it.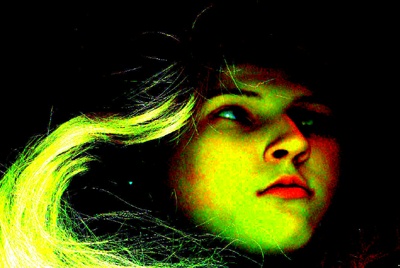 © Amanda S., Congers, NY