Death Hurts
October 24, 2011
When I was seven years old, I remember the death of my grandmother. It was the first time I'd ever experienced a death at all. I didn't understand it. I remember my mother coming from Grandma's hospital room and telling me, "Her heart stopped beating."
At first, I hadn't understood what that meant. How could a heart stop beating? That didn't happen in ordinary life of a second grader. In a child's mind, people didn't just die.
Yet, Grandma had.
I remember crying as I finally came to the realization that Grandma was no longer with us. Tears dripped down my cheeks, but I don't recall my mother crying with me. As she held me, comforting me, I don't remember seeing her cry. I'm sure she did, but my own eyes never saw it.
It was less of a shock when my other Grandmother died, on my Dad's side of the family. I had always been scared of her because she always walked around with air tubes shooting up her nose. I never liked being around her because I was a kid and didn't comprehend why she had the air tubes in the first place. All I knew was that she scared me, and that she was the third grandparent I had lost. I was told that my mom's father had died before I was even born.
Years passed, and I went into my teenage years. I grew up into a young lady, and I learned many new things. I went to several funerals, but nobody else of my family died until I was fourteen years old.
I remember my mother answering her cell phone when Dad suddenly called. There was a pause. "Honey, what's wrong?" she asked.
Another pause. "What?"
She turned pale and sat down slowly, her energy vanishing like vapor. Her mouth opened wide, and she showed her teeth, but she was not smiling, nor was she laughing. I feared that my last grandparent had died. I was very close to him, and I wasn't ready to let him go.
It turned out that my aunt was the victim of death.
The funeral was the worst one I'd ever been to. My aunt had only been sixty years old, and she had died of a sudden cardiac arrest early in the morning. The worst part was seeing my uncle's face the whole funeral. His face was grim, and when he came to hug my grandfather his teeth clenched, showing me that this was the hardest day of his life. It was the saddest thing I'd ever seen – probably in my whole entire life. I cried a lot that day, and my eyes became very puffy and red. It always killed me when I saw others who were grieving or suffering from any kind of pain.
A year later, I was now almost sixteen years old. I still couldn't believe that my aunt had died a year ago. However, it seemed like it had happened a while ago, and I didn't think of my aunt often.
Then the family came over for Thanksgiving weekend. The day before Thanksgiving, my little sister said grace as we all held hands.
"Dear God, thank you for this day, thank you for our food, thanks for our family coming over for Thanksgiving, and bless all the people who don't have as much as we do."
It was a nice sentence, and a typical one that followed the same format as always.
"Amen," everyone said. We let go of each other's hands.
"To all the people who can't be here with us today," my uncle said, holding up his glass of wine.
We clashed our drinks together as everyone murmured words of agreement, and I pondered about my uncle's words, knowing that he was thinking of my aunt. I looked over at him. He was smiling, but in a sad way. His eyes were slightly red. I realized that this was our first Thanksgiving without her.
That's when I realized that my uncle was not okay. He'd never gotten to say goodbye to his wife, his soul mate and best friend. He'd been alone for a year now, and he'd had to crawl into his bed without any companion. He'd had nobody to talk to but his dog, and he was the only man in the house. No, he was not okay. He was miserable and heartbroken.
I looked down and drank my water, not knowing what to think. For the first time in my life, I was seeing the aftereffects of sudden death.
My uncle said the same words the next night when we had the Thanksgiving feast. "To all the people who aren't here with us today."
We all smiled sadly. I looked at my uncle's eyes and saw the same gaze. I could almost hear his thoughts in my own mind: I love you. I wish you could be here with us for Thanksgiving.
The next few days that the family was here, I began to study my uncle and saw that he still thought about my aunt a lot. I realized that he probably said a prayer to her every night when he was forced to eat alone in his own house. I thought about how hard it must be for him. I wondered how often he cried thinking about her.
From then on, my view on death was very different. It was no longer something that just happened every once in a while. It was no longer something that I rarely thought about, as I never thought about it as a child. I became aware that death hurts more than anything else, its pain searing like fire at the heart.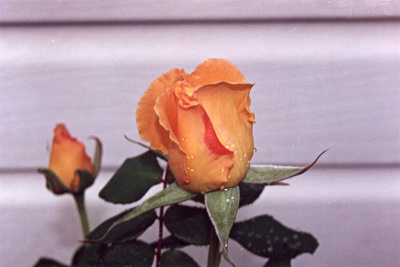 © Jamie U., West Hempstead, NY