Complicated Makes More Sense
April 21, 2012
Never in my life did I think I would ever be part of a complicated relationship. I always used to look at that "It's Complicated" relationship status choice on facebook and think "That is so stupid, why is that even an option, how complicated could things be?" How wrong I was.
I wish I could say that I want to go back and do it all over so that I would never end up in this situation that I am in. I wish I could say that I am over it and am moving on and starting fresh. But if I said those things I would be lying. The fact that I am more than willing to stick around for him is right in the front of my stupid head taunting me.
The real kicker is that I know that what is happening isn't right, I know that things shouldn't be the way they are and I know very well that it would be better for me to move away from him but I can't. I just can't bring myself to do it. It's almost like a sickness, he hurts me again and again and lets me down but I stay there and let him.
It may seem like I have everything under control but I really don't. My head is constantly churning around thoughts that I can't even keep up with while he just sits there in class next to me without even the foggiest clue of the mental anguish he's putting me through. Or maybe he does and doesn't care because he is benefiting from it.
He is messing with my head but I refuse to stop him because I just can't imagine my life without him in it.
The complicated relationship makes much more sense to me now that I am living it, and as much as I wish I could say that I hate it and would stop it from happening to me if I could do it over again, I don't. I guess that's the ugliness of the complicated relationship; it messed with my head so much that I don't even care that I might be getting played and that he might not even like me nearly as much as I like him, I just don't want it to stop because in whatever way, he is mine and that's all I really want.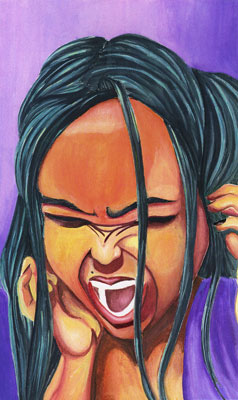 © Kriztille J., Briarwood, NY