The Bear
July 21, 2012
We all have something. Something that speaks to us, something that makes us feel whole. Something we know we can't live without. That "something" I couldn't live without was my boyfriend, Jeff. God how easy it is for me to remember that first day when our eyes met at the cafeteria, to the time we exchanged numbers, and the night of my surprise 16th birthday party when he held me in his arms. That night was April 16th. A belated birthday party, that changed my life forever. I asked him out after my best friend kept pushing me to do so. After building up the courage, I asked in a near whisper, my mother busy talking with his mother. He gazed into my eyes and said yes! The disbelief and joy running through me was tremendous. I finally got my first boyfriend! For 8 months we dated. Those were the best 8 months of my life! Everyday we texted, but since I switched schools, we only saw each other one to two times a week. I didn't mind too much, despite how much I missed him. It was a sweet romance, really. I called him my Romeo and he called me his Juliet. He said to me we would be together forever, and that someday he will prove he truly loved me by getting down on one knee. His words were like silk, so soft, so beautiful, so smooth. How he spoiled me so! Every picture, every gift he gave me, I kept in a small, heart-shaped box. God was it filled! Inside it held so many wonderful memories!

Life felt so perfect, so blissful, until the day my heart was lost. January 5th was the most woeful, miserable day of my entire 17 year old life. I held my friend's phone in my hands, tear-streaked, knowing what was going to come. On the other end was an awkward Jeff. Instead of his loving voice it was a grim and troubled voice. Since I was at the ski lodge, I had to go somewhere more private; under the staircase in front of the janitor's closet. My blood ran cold, my breathing fast and irregular with the despair that built inside of me. How is this happening? He told me that we had some things in common, but more things that we didn't have in common. The connection was lost, as he put it. How long was he thinking about this? A week and a half. He said that he didn't know how to tell me he was tired of hearing and didn't care much about some beliefs that were important to me. I thought to myself the last week and a half I was with him was a lie. His kisses to me, a lie, his love for me, a lie! He said it wasn't a gentlemanly way to break up with me like this.

"So you are breaking up with me?"

"I don't know!" he said his voice shaky.

"Is there someone else?"

"No, not really?"

"Not really?!"

"No!"

"I still love you."

"But your breaking up with me."

After talking and talking he finally broke up with me. And that was that. One week later he asked out my best friend, and one month later he goes out with my former friend, then quickly dumped her .

The first week without him was terrible. I was overwhelmed with grief. I couldn't eat and I couldn't sleep. Eventually all the moping got me sick with the flu. No texts, no calls from him. I was weak, and my tears were endless. I couldn't work at school, without the grief of my relationship dawning on me, sucking the life out of me. I would leave class and cry, until my tear ducts got tired. I felt like I died, like something inside me was lost. My friends and family gave me sympathy, trying to make me better. Everything I ever cared about was gone, so no matter how much someone tried to cheer me up, I was still drowning in all the resentment and sorrow that was deep inside of me and that fed on me like a parasite. The news of my breakup spread throughout my school. The sadness was clearly written on my face, my grief shown in my slumpy posture. It was harder to make me smile. The smiles were fake attempts to calm people's concerns down. I hid the heart box that once made my heart light up, and once carried the joy of my relationship. The box's power was too great for me. It brought me grief, it brought me despair, it reminded me about the death of our love. It was the coffin of our relationship. It held the key to his heart that I wore around my neck as a necklace. The diamonds gleaming in the heart. The last gift he ever gave me. I thought it meant something about how he truy felt about me. But now that our love ended, it's message was never real. The key to his heart no longer fits. Never would it fit again. I thought gifts were a message about how much someone cares about you. But I realized a gift wasn't enough, it was the thought that mattered most. A gift would have no meaning if someone gave it out of guilt or obligation. Diamonds or no diamonds, it would mean nothing. If the gift was a small pebble, but the giver put his heart into it and the story behind it was meaningful, it would become an object of value to me. I would love it, I would care a lot about that pebble! I put that heart-shaped box away, a frown resting on my face.

I had an English teacher for my entire sophomore year. Like my many English/language arts teachers, I haven't felt that close to her. She was depressed and bitter it seemed. But what I was too ignorant to notice was the sadness displayed in her eyes. I was a good student, never getting anything other than A's. Rarely I saw her smile. One day I sat on my desk, my depression from the breakup sky-rocketing. She asked me what was wrong. I told her that I couldn't get my mind off of my ex- lover.

"Katie, it is something that you shouldn't dwell on. The past was the past. It is important that you move on from this. He is not worth your time, trust me I have been there." my teacher said to me. It was then that she told me the sad tale of her 30 year marriage that ended. I realized that I wasn't the only girl in my school that grieved over the loss of love. I realized on that day that my teacher was truly a wonderful person going through a rough time. Hearts are fragile, a breakup can effect how we express our emotions and ourselves. Our true self can get locked up inside, screaming to get let out again. Sometimes it's something that you can never let go. But for the most part, it is something that gives you an experience, a lesson, about yourself. A break up can heal with time if you let it. A couple of days later, my English teacher came in the classroom holding a Hallmark bag.

"Katie I have something for you," my English teacher said with a smile. She revealed to me what was in the bag; two stuffed bears. One was a brown bear holding a yellow flower, and another was a white bear holding a strawberry. "Take your pick." I looked at both bears with a spark of joy that I haven't felt for so long. I finally picked the little white bear.

"I got you the bear when I went shopping the other day. I wanted to give you this to make you feel better. I am truly sorry about the breakup." my teacher said warmly. I felt closer than ever to her from that day on. The bear's white fur was as pure as the intention and care the teacher felt, and the strawberry was the fruit of a new beginning. That bear gave me hope, gave me the motivation to move on; that there are people in my life who truly care about me. I realized even the smallest of gifts, can touch someone so much, it would impact their life forever.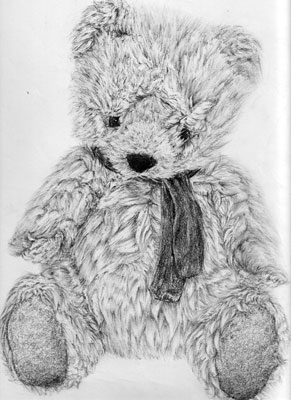 © Sarah F., Birmingham, United Kingdom