Dear Death
December 22, 2012
Christmas is near.
Christmas. Ring a bell?

On the last Christmas eve, he promised me that he'd be back soon and would help me with my homework. I was angry at him that he was going away without me on Christmas. But he said he was helpless and he had to go. And that he'd bring me presents.But he never brought me any presents. I didn't realize that it could be the last time I was talking to him.

It's been a year since I last saw him. A year. It doesn't even feel like a year has passed without seeing him. I loved him. I still do. But do you understand love? Do you understand what love is? How it feels like to lose someone you loved so much? You don't. Because if you did, you would not have taken away a person like him. A person who was a hard worker, a person loved his children, a person who was a dedicated husband, a person who could make me smile at any point of time, a person who would wake up at 4 in the morning to pray to God, and most importantly, a person who respected you. Respected Death. He was never afraid of you. Is that why you took him away from me?

How could you possibly do this? I don't understand you. I don't understand anything about you. I was crying my eyes out. I was bargaining with God. I knew that if there was ever a time when I needed his help, this was it. I asked Him to spare him and I would never ask Him for anything again. I promised everything I had to have him back. So he could make me smile again, so he could guide me out through the dark, so he could help me do my homework again. I thought I could do anything with him by my side. It never occurred to me that I could really lose him. That you could really snatch him away.

I'm not fond of you. And I don't know why he was. But there must be something about you that he respected you so much. He respected you even when he knew what you were. And what you could do to him.

I'd sell my soul to make that not have happened to him. I miss him, my Grandpa. I wish you would send him back to me. Because it's Christmas.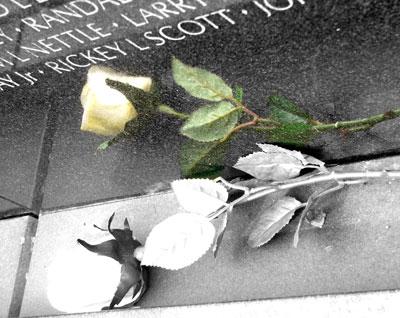 © Kimber E., Yorktown, VA