Changed Forever
October 1, 2013
"So tonight, before you leave camp and go back to the craziness of life, I am inviting you to find your counselor, and if you haven't already, give your life to Jesus." I had already done this when I was about ten, but I hadn't really understood what it meant or what I was doing. Two other girls and I met with our counselor, and on the path back to the cabin, we prayed to accept Jesus into our lives. Since then, I have really grown in my faith, and that night at Timber-lee, a Christian summer camp, changed the person I am today.

Today I am more motivated to read the Bible with my dad every morning, which helps me start the day right. We are following a two year plan, which consists of about two chapters a day. After reading the Scripture, we read and discuss a commentary that helps me understand what we read. After camp I became more motivated and excited to dive into God's word and understand it. Reading the Bible regularly helps me understand what I think God wants people to learn from it, such as morals and lessons. After I came back from camp, I became more motivated to read my Bible every morning.

Another way I have changed is through an Apologetics club, which is a branch of our speech and debate club. There are one hundred and five topics we study, for example: The meaning and significance of the trinity, or do all men have an conscience? We are preparing for tournaments in which we will give our speeches competitively to judges. But in addition to the competitive aspect, it is also to learn more about the faith we believe in and be ready to give answers if our friends have questions about our faith. Before the summer camp, I might not have been as excited about learning about my faith. I really enjoy being apart of our Apologetics club, which I might not have done if not for that night at Summer camp when I gave my life to Christ.

After I made this commitment to trust God with my life, I believe my heart has also changed. I have been trying harder to love others and be less selfish, for example trying to be more patient with my siblings or serving and helping others even if I might not feel like it, but I also realize that nothing we can do can get us into heaven. 2 Timothy 1:9 says: "He has saved us and called us to a holy life—not because of anything we have done but because of his own purpose and grace. This grace was given us in Christ Jesus before the beginning of time." It is not by our own strength that we are saved, but if we have decided to follow Jesus, we should strive to follow his commandments. That doesn't mean I will never make mistakes, but after I gave my life to Jesus, my heart changed, and hopefully my actions are becoming more and more how He would want them to be.

As I have shown in this essay, the night during which I gave my life to Christ has impacted me in several ways. I have been motivated to continue reading the Bible with my Dad, joined a Apologetics club to learn more about God and be able to defend my beliefs, and he has begun to change my heart to want to please God. That night during which I gave my life to Christ has changed the person I am today.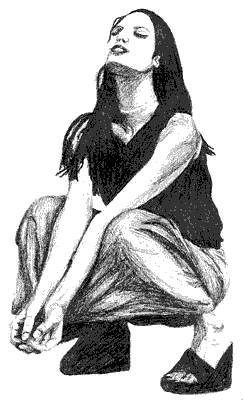 © Danielle B., Cordydon, IA