Summer 2010
January 22, 2014
July 14, 2010 it is a bright and sunny day in Putney, Vermont. The air was thick with humidity as it is the middle of summer, the hottest time of the year on the east coast. I am walking in group of about six students up the steep hill after my How to Write a Persuasive Essay class to our Learning to Maximize Learning class at the Landmark College which was hosting a High School Program. Our arms are linked together and we are all chattering excitedly. All of a sudden, above all the chattering, a voice rose above the rest. "What's your name?" The question was aimed to the boy standing next to me. He had blond hair, green eyes, a multi colored shirt and a pair of shorts. I was wearing a casual t shirt and shorts. Because I was standing next to him, I answered, "His name is Andrew." Andrew glanced at me and smiled proudly and announced to the group, "See? She knows my name." I looked at him with a shocked expression and took a deep breath.
I was mildly annoyed at him, although barely knowing him, I couldn't scream at him for not knowing my name. I figured because I am a quiet person and the teachers never really called on me. The only reason I knew his name was because he talked constantly in class and the teachers were always calling him out to be quiet or pay attention. Even though I didn't know him, understanding ADHD made it seem understandable why he wouldn't have acknowledged my name. At least he recognized me as a girl. I would have felt more insulted if he had just said, "Hey, this person knows my name." or mispronouncing my name if he knew it. Gosh I hate that. People take one look at my name and sometimes never get it right. Or hear my name and spell it wrong. I guess that's what happens when a person has such a unique name. I can only hope that if become really good friends with this guy, he will be able to pronounce my name and spell it correctly. It will drive me insane if I have to correct him all the time. If I had a simple name like Ana or Emily, I wouldn't have to worry about strangers mispronouncing or misspelling my name. It would make my life so much easier. But this is the name my parents gave me and I must embrace it because it's my legal birth name.
Looking at the rest of the group, they seemed not to care as they continued with their conversations. Looking at Andrew again, I said, "Andrew, my name is Alyssa."
"Oh, well, nice to meet you Alyssa," he replied.
The group reached the top of the hill and I sighed. I then thought to myself why didn't I do that when we were in class? But at that moment I felt satisfied. At least he finally knew my name.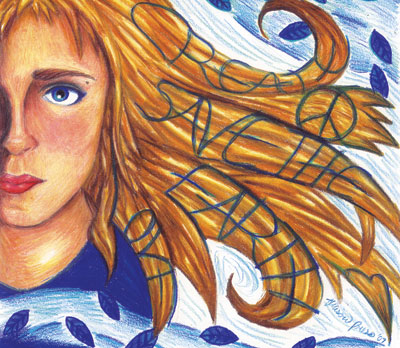 © Allison P., Chapel Hill, NC