The ADHD Experience
April 16, 2014
Andrew arrives in the Aspen Airport mid afternoon from New York. He is staying at my mom's house for the week and we plan to have dinner out his first night. When he arrives, his blond hair swept to the side, intense green eyes and stern face can't help but put a smile on my face. I am so excited to see him, that I jump into his arms the moment I see him.

Heading back down valley, I asked Andrew about his flight and he responded that it was boring, with no intention to elaborate. We continued to just enjoy being together as we proceeded to the house to relax for a while. It's New Years Eve and a night that I want to make very special for Andrew. With a limited variety of places to eat, and he chooses Italian to eat being one of his favorite types of food. I decide to take him to Bella Mia, which is a very good Italian restaurant. Andrew enjoys the idea of eating out because that is his lifestyle. Growing up, as I've learned from visiting him is very natural and part of his every day life.

Later that night, when the host greets us at the door, Andrew is very polite when asked "How are you doing this evening?" His polite response, as it always is, "I'm alright. How are you?" I smile as he says this, loving how polite he is. We sit down at a table and I soon start asking him about school and how his final exams went. He tells me that he feels confident about all his classes, especially his modern history class which he knew he had an A in. He could talk nothing but good things about that class and I wasn't surprised when he started doing really well. For the three and a half years, he has told me countless stories about modern history, and tonight was no exception. What always intrigues me is how much knowledge he has, and how much I have learned from him.

After our main courses arrive, the topic switches to video gaming. Andrew is an avid video gamer, and he can talk about it for hours, but it's not always easy for me to listen to. But every now and again, like tonight, I let him talk about it. I laugh at the stories he tells. Most of the stories he tells are pretty entertaining, but when he seems to drawl on it, I tend to cut him off. But tonight, being a special night, I let it slide, and just enjoyed being with him.

Some would say that Andrew has a dark personality, such as my mom, but that's really what it looks like from the outside. When we first met, I could tell he was different. He thinks differently, and acts differently, but it's only because he has ADHD. Meeting him at first, his interests may be different, just like my mom noticed. But that doesn't mean that he should be ignored. When he is ignored, or mistreated, just like he felt like while visiting me, he becomes very distant and unfriendly.

When he first came here in the summer of 2011, he felt like both my parents didn't seem to acknowledge that he was there. My dad ignored him the day and a half we were at his house and although my mom talked to him, Andrew felt she didn't seem to put any effort into him being here. Then when he was here, he got along better with my dad, finding interests in common, but still, he felt neglected being at my moms house.

Understanding him takes time, and sitting down and just talking to him, like I have is all a person needs to do to make Andrew feel appreciated. Asking him about school or video gaming is the best way to start a conversation. Asking him about his goals for the future as well makes for a great conversation. Having known him for so long, a conversation comes naturally with him or as I have seen with his friends when I've visited him in New York, who he talks about video gaming with because they are all video game nerds with ADHD, it's a common interest they all have. I have found with Andrew, that just slowing down, and being patient makes all the difference. Andrew is a very unique and interesting person that I am lucky to have in my life. His quirks make him unique and I wouldn't like him any other way.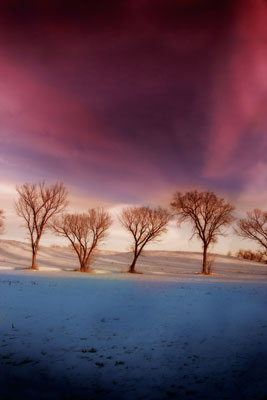 © Elizabeth H., San Bernardino, CA