My Experience In The Keene Pumpkinfest Riots
December 20, 2014
I really wanted to be a Keene State student years before my high school graduation. They had all the majors I was interested in and the campus was beautiful and had a positive atmosphere. The teachers were friendly, and the students were enthusiastic. I knew the minute I set my foot there, that this would be my future college.  I couldn't have picked a better school. When I got accepted, I couldn't tell you how proud and happy I was to be an official Keene State Owl. One incident occurred however, that would test my love for Keene State College: the pumpkinfest riots.

My mother and my Aunt Bonnie were coming to my dorm to visit me during Pumpkinfest. I haven't gone to Pumpkinfest before, so I was more than excited to actually go to this amazing event. Tens of thousands of people from around the world flock to Keene, New Hampshire to see the thousands of carved pumpkins decorating the town.  2013's Pumpkinfest set the world record for the most carved pumpkins.

My friend, John, came up to visit during the time before and after my aunt and mother came to see me. I decided that it would be a great time to give him a personal tour of my college that focused mainly on student life.

"Do you see that?" I asked my Aunt Bonnie. I pointed in the direction of the clearing behind the path of the dorm that was across from me. From a distance, I could see flying glass in the air. My mom and I were mesmerized by it. We didn't have a clue as to what it was that was being thrown until a little later. Not too long after my observation, my phone vibrated in my purse. I picked it up and saw that it was a text message notification:

SAFETY ALERT: ALL KEENE RESIDENTS ARE ADVISED TO STAY AWAY FROM WINCHESTER STREET ON ACCOUNTS OF SEVERAL PEOPLE GETTING INJURED BY BOTTLE THROWING.

I was a little unsettled, but nonetheless I continued to enjoy pumpkinfest with my aunt and mother. It wasn't until we went back to my dorm to fill up my water bottle that I discovered I really had something to be afraid of. The lobby floor in my dorm was covered in spots of blood. As I walked over to the bathroom, blood continued to spot in that direction.

Despite the RAs, reassurance that it wasn't anything to worry about, I was still  anxious. Really, I was. I had no idea at the time what happened, but I later found out that it was from all the people who got hit by flying glass on Winchester Street. I tried to shrug it off by going to a festival in the neighboring town of Peterborough. Of course, my worries didn't end there. During a ritual, to honor our ancestors and dead loved ones, one of the women conducting the ritual said, "Before we begin let us ask for protection for the people and their families who are being affected by the horrible events in Keene."

A horrible feeling washed over me. Are my friends safe? Did anyone die? What horrible events are happening in Keene? As soon as I heard that, I became very anxious to go back and check up on my friends.

After the celebration, I came back only to find out what exactly the woman was talking about. Streets were crowded. Police were stationed everywhere, many of them wearing riot gear. My mother and aunt insisted they walk me back to my dorm, but I stubbornly refused.
 
"I'm a grown up mom, I'm sure I can walk to my dorm on my own, it's right there." I said flatly as she drove me to my dorm.  Just when my mother pulled up on the campus pavement, we all saw a drunk college kid being restrained by another man while a third person was beating him up. The poor guy was defenseless. I immediately took back what I said and let them walk me back to my dorm while I was apologizing to my mom.

After they left, things started taking a turn for the worst. John and I hung out after that. When it was starting to get late, I  decided to walk him to his car. While we were heading to the lobby to leave the dorm, the hallways were crowded. One of the RAs halted us and strongly advised we stay in. I soon found out why. The lobby was crowded with a lot of fellow students, some of them teary eyed. I asked what was wrong and one of them said they were tear gassed. I still decided to leave. Just as I attempted to go outside with John, I was greeted with four riot police

"GET BACK IN THE DORM NOW!" they shouted at me, guns pointed in my direction. My blood ran cold and I bolted back in, completely shaken up despite that the gun was only carrying rubber bullets. I never had a gun pointed at me.

"Oh my god oh my god, don't go outside." I said hysterically as John comforted me. Just when he was comforting me, I heard the sound of shots being fired, tear gas explosions and the horrified screams of people who were unlucky enough to be outside. The tear gas seeped through the paper-thin walls of my dorm. My lungs were irritated by it, making me cough like an old man. John looked at me with concern and took me away from the lobby and back to my room. We were both told that nobody could leave the building. I panicked for at least a couple of hours. I was hyperventilating and shaking for what I just witnessed and heard. I continued to hear the sound of rubber bullets being fired out of guns, tear gas, and the blood curdling screams of tear-gassed people. I also heard drunken chanting. Due to my panicked state, John told me not to look out my window. I told him to tell me what he was seeing. Suddenly I heard the sound of a close-up helicopter. I couldn't resist any longer. I had to look out the window. It was indeed a helicopter. In fact, it circled the area outside my window, shining the light on all the students. I later found our that the National Guard was there that night. Suddenly I was told to duck by John because shots were being fired closer to my window. To my relief, I had no reason to duck, other than to spare myself of more fright. John reported that some people got hit with rubber bullets. I could hear people outside chanting, "Tear gas! Tear gas! Tear gas!" as I heard the sound of something heavy, falling and breaking on hard pavement. I didn't know if it was a car being flipped over, or a lamppost being pulled out of the ground and falling over. It really got to me. It felt  like I was living in the middle of a warzone. It wasn't until around 3 in the morning when things became quiet. The morning after, students picked up all the debris that the rioters left behind. The "townies", as the students like to call them, looked down on us Keene students. Some even created a One person remarked on a post on facebook that the person will run over every Keene students with their car. It was safe to say that I definitely did not go downtown until the misconceptions about the students cleared up. I later found out that over 20 people were hospitalized. To my relief, most of the rioters were in fact not Keene State students. I am also happy to say that nobody got killed. Days after the incident, residents of Keene and students gathered inside the Student Center in my college to comment and discuss the riots in Keene. I stood up to thank everyone for coming and how I'm still proud to be a Keene State Owl and how much of a community we really are. I will never forget this experience. For the next few days after the riots, the sounds of the screams, chants, hissing tear gas, and flying rubber bullets were still ringing in my ears, whenever I woke up. I would cautiously look out my window and find myself relieved that the chaos was all over.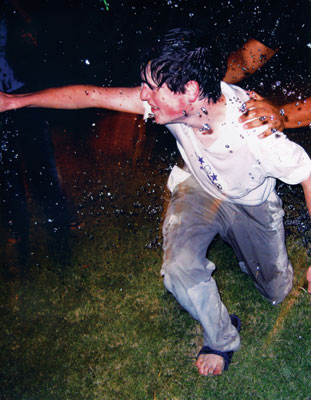 © Caroline H., Stephenville, TX