African GIrl
October 26, 2017
Hush little girl dry all your tears,
Become docile and mild.
I'll make you no longer scared of your fears,
Come closer my child.
I'll tell you a story about an african girl,
Her skin as dark as the night.
Her dreams always made her mind twirl,
Those same dreams made her life full of light!
She Dreamed to dance around a stage,
To be fitted into a sparkly dress.
She wanted this at such a young age,
That she had prayed everyday for dance in her life to bless.

When she was only fourteen years old,
She wished to design colorful clothes.
After asking and waiting her mother taught her fancy folds,
When she finally finished she smiled from her head to her toes.
When sickness struck her family,
She dreamed to help them through the worst.
With each cry of agony,
She continued to faithfully nurse.
When she became a flourishing young lady,
She pined for the love of a giving man.
After searching without giving up she found a man with eyes so shady,
He became her number one fan.
Years went by in a lovely marriage,
She longed to have an infant to cherish.
They finally filled the baby carriage,
But sadly the baby eventually perished.

Tears filled up the empty hallways,
But she never gave up hope.
There was faith always in her gaze,
Until finally there was an end to their downward slope.
They named the baby Sue,
And they smiled at her face.
She let off a little cooe,
As they wrapped her in lace.
In a serene moment The mother whispered,
"I have some advice for you dear," she said.
"Don't ever become a quitter,
Be a dreamer instead."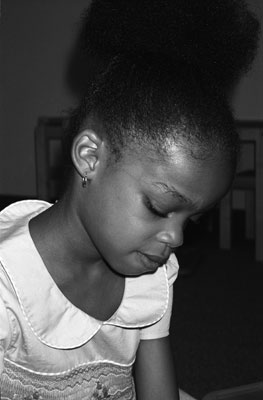 © Megan W., Ocala, FL