The Art of Being an Introvert
July 14, 2015
I think society's definition of "introvert" is not the same as my definition. Society believes introverts to be those with small voices, the quiet ones with powerful hearts who get drained and deranged being with too many people. This I agree with, but my definition, as applicable to my own life, must be taken a step farther. As an introvert, I prefer being by myself. Being by myself means I only have myself to listen to, and I can easily collect my thoughts. I can breathe and breathe without the fear that heaven forbid I'm breathing someone else's oxygen.

Being an introvert for me does mean that I am quiet. Most of the time I live in the predictable world of my head instead of the unshakable, unpredictable mirage of reality. I like things safe and secure. I like peace and quiet. Most everyone likes this one, no matter whether you are an introvert or not. I like the idea of being with friends, of jazz music and dancing the foxtrot with someone taller than me, of meeting new people. And here's where the internal daydreaming is severed in two, because I really can't be myself when I meet new people.

What I mean by this is, I guess, I'm guarded. The first time I meet someone I'm not quite sure if I should trust them or not. I don't trust people as easily as I used to, partly due to the fact that I've been hurt on multiple occasions. Why put your heart in the game if it's going to get cut with cookie cutters and given to the people around you? I've really been trying to not act so guarded, partly because I want to have more friends, and partly because I don't want people to be shocked when they learned who I really am.

There are three different ways I guard myself. They're all instinctual and somewhat controllable: silence, continuous talking, and controlled speech. I always hope to get the last one, but typically I don't unless I really coach myself to. And that means half listening to what the person is saying and having the other half of me screaming at myself to act normal and to not freeze up.

So silence is the easiest one to do. After meeting someone I become unshakably silent. One or two words suffice for answers and the person knows little about me. In conversations, I am one of Medusa's victims, propped up in a suit of flesh, listening, but never speaking. I act like a usual introvert, quiet and unresolved.

Continuous talking is also fairly easy, but has the most detrimental effects to whoever I'm talking to. I talk away, rattle my mouth off is more like it. I vomit words onto the floor and using my foot, shower them upon my listeners in a vaudeville display. I end up mostly talking about myself, bragging, boasting, and roasting myself. People, those who listen to me anyways, are shocked by what they find. I am not what they were expecting and many turn their heads away in disgust. And very very few come back. I rattle my mouth off, leading them down the wrong path because I don't want them to know who I really am. Until I can absolutely trust them, my personality, thoughts, and opinions stay in the dark.

And the third, the one in one millionth possibility, it would seem, is the one I actually want. It portrays me as a human being, not as a pompous braggart and not as a living corpse either. I say the brief answers I feel comfortable with and then pound my questioner. I play interviewer, trying to collect as much as I can. I'm the human vacuum, sucking up everything in my path.

To be an introvert to me is to wear a mask outwards toward strangers and show my true face toward friends. But sometimes I feel like wearing a mask to my friends. Sometimes I feel I need to hide the truth, that I'm not doing okay and that I want to stand on top of a hill and scream to the world in utter rage, till I run out of breath and collapse on the dirt. This truth I hide and others. Because with so much worrying people do for themselves, it's a wonder that there is any time for anyone else's worries.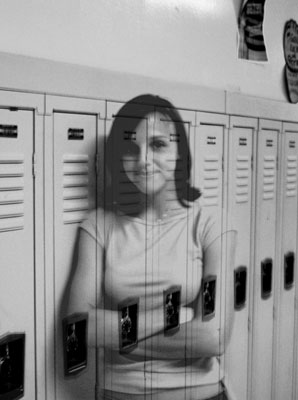 © Amy D., Troy, OH